Culinary Holidays
Food-Fun-Wine -

http://www.food-fun-wine.com.au


Adelaide's top food and wine tours in South Australia. Highlights food, wine, tours, restaurants, and recipes. Tours hosted by culinary professionals available.

Toscana Saportia Cooking School -

http://www.toscanasaporita.com


Learn Tuscan cooking while staying in a 15th century hilltop estate. Offering small classes and hands-on instruction in English as well as daily tours with professional English speaking guides. For beginners and professional.

Papillon Select Tours -

http://papillonselect.com/default.htm


Villa-based gastronomic tours of Europe for private groups of up to 14. Papillon cuisine and estate-bottled regional wine. Cooking classes and wine tastings highlights.

International Kitchen -

http://www.theinternationalkitchen.com/


Offering culinary vacations, cooking lessons, and French and Italian food and wine tours. They can take care of round trip transportation, local guides, plus any travel planning, and provide custom itineraries for small groups.

Wine-Knows Travel -

http://www.wineknowstravel.com


Offers guided food and wine tours of France and Italy. Contains a sample itinerary and customer testimonials.

Cuisine Provençale, France -

http://www.cuisineprovencale.com/


Culinary holidays and cooking classes inside the Roman walls of Arles. Provence for the traveling gourmet and wine enthusiast. Discover the region and meet the food artisans every morning, cook and feast every night. Erick and Madeleine Vedel welcome guests.

Umberto Cooking School -

http://www.umberto.com


Cooking school in Tuscany featuring gourmet meals, fine wines, excursions and Puccini Opera Festival. Located in a 16th century chateau in the hills of Pisa.

Hotel Coyote Mountain -

http://www.cerrocoyote.com


Mountain hotel and cooking school located in Costa Rica near Arenal Volcano as well as Monteverde National Park. Contains links to cooking programs as well as accommodation and contact information.

Epiculinary -

http://www.epiculinary.com


A culinary tour company offering unique cooking vacations for all tastes and budgets to Italy, Spain, France, Mexico, and the United States.

Cooking In Florence -

http://www.bugialli.com


Study authentic Italian cooking of all regions with Giuliano Bugialliuscan while based in Florence. Spring, Summer, and Fall courses. All courses prepared inside our 1000 year old villa located in the wine county of Chianti.

French Gastronomic Tours -

http://www.2travelandeat.com


Visit France and discover the French gastronomy. Taste local specialties by booking a gastronomic tour through splendid regions. You will stay in relais-châteaux and fine hostels and dine in exquisite restaurants.

Ecco la Cucina -

http://www.eccolacucina.com


Features a hands-on Italian cooking class held on the rural estate of Spannocchia south of Siena, focusing on Tuscan cuisine and wines.

Samui Institute of Thai Culinary Arts -

http://www.sitca.net


Lunch time and dinner time Thai cooking classes meet daily at 11:30 and 4:00 pm in a modern facility. Three-day fruit and vegetable carving courses are taught twice weekly.

foodvacation.com -

http://www.foodvacation.com


Offers culinary travel, including food related vacations and tours, operating seasonal cooking schools in Costa Rica, Istanbul, Turkey, Yarmouth, Nova Scotia, also Granada, Spain.

Granada Cooking School and Vacations -

http://www.alhambratravel.com


The cooking school, bed and breakfast sits in view of the Alhambra Palace located in Granada, Spain. The site features information regarding cooking programs and accommodations.

Gourmet Retreats -

http://www.gourmetretreats.com


Gourmet Retreats at CasaLana B&B offers cooking classes ranging from 3 hours to 5 full days. Classes are held in Napa Valley in the B&B's professionally equipped kitchen.

Oaxaca's Food of the Gods Festival -

http://www.food-of-the-gods-festival.com


A culinary exploration of culture - from chiles to chocolate - exploring the traditional cuisines of Oaxaca, Mexico through cooking classes, dine arounds and markets tours.

City Adventures -

http://www.cityadventures.com


Worldwide tours in food, wine, art and gardens.

Shaw Guide to Recreational Cooking Schools -

http://cookforfun.shawguides.com/


Detailed descriptions of recreational cooking schools and vacations worldwide. Includes calendar of upcoming programs.

Laguna Culinary Arts -

http://www.lagunaculinaryarts.com/


Offers one half day through three-day cooking classes for cooks of all levels, plus a special two-day weekend class.

Chocolate Lovers Paradise Tours -

http://www.intrend.com


Fully escorted 7-day tours. Features Belgian cities of Brussels, Bruges, and Antwerp. Highlights visits to world-famous chocolatiers, Chocolade Pasiion Festival, and banquets.

Cook Italy -

http://www.cookitaly.com/


Italian cooking classes in Tuscany, Sicily, and Bologna. Fun and informal 1 or 3 day lessons and week long cooking classes. Also private cookery lessons in London. Carmelita leads small groups in the hands-on cooking of authentic Italian meals.

Mangia Firenze -

http://www.mangiafirenze.com


Custom culinary adventures combining Florentine food, art, and culture.

Gabriele's Travels to Italy -

http://www.cookinginitaly.com


Daily journal photos and experiences of travels in Italy on Cooking in Amalfi tour. Contact information available for tour information.

Laura cooking class in Tuscania -

http://caponetti.com


In farmhouse among etruscan sites, located near medieval town of Tuscania, spend a week learning easy Italian family cooking mixed with sightseeing and tasting of real Italian culture and way of living.

Himalayan- Bhutanese Cuisine Tours -

http://www.gangri.com/tour4.html


Excursion includes visits to agricultural areas to see how Bhutanese grow food, to markets to see the variety and economics of food, and to restaurants and homes.

Global Cuisine -

http://www.globalcuisine.com


Tour information and videos exploring the culinary and cultural traditions around the world. Introductions to chefs, markets, kitchens, museums, and food.

A Question of Taste -

http://www.aqot.com


Food and wine tours and tastings in based in Seville, Spain. Excursion and tapas tours as well as packages available.

Everyday Gourmet Traveler -

http://members.aol.com/gormaytrvl/index.htm


A cooking school travel program offering small group culinary tours to Italy, France and regional United States.

InspirAsians Cooking School -

http://www.inspirasians.com


Located in a villa on the edge of a lake reservoir in Zhongshan, Province of Guangdong, China. Offers 4 and 7 day cooking and Dim Sum classes. Photos, recipes and information.

Tropical Creole Cooking School -

http://www.acadianfarm.com/foodvacations/Tropical.html


The hotel cooking school is located on the central Pacific mountain slopes of Costa Rica, near the regional capital of San Ramon. The site features information regarding programs in seafood, vegetarian and cooking with tropical ingredients.

Trout Point Lodge -

http://www.troutpoint.com/FrameSet4.html


Food learning vacations, including cooking classes and wild foods foraging, with an emphasis on seafood cookery and the cuisines of the French New World. Located in Nova Scotia.

The Kitchen Door -

http://www.thekitchendoor.net


A newly opened recreational cooking school on the south part of Whidbey Island, Washington. Four day, hands-on courses for the enthusiastic home cook. Accommodation information for vacation planning.

Cuisine International -

http://cuisineinternational.com/


Offers unique and educational culinary adventures in beautiful locations. Booking week-long vacations at over a dozen cooking schools in Italy, France, England, and Brazil.

Creative Cooking Schol in Las Vegas -

http://www.creativecookingschool.com


Cooking school in Las Vegas with hands-on and demonstration classes. Some classes include French and healthy gourment cooking as well as pasta workshops and seasonal soups. Site includes culinary terminology, weights and measures and information on choosing wine.

Tastes of Italy -

http://www.tastesofitaly.co.uk


Gourmet city breaks and regional exploration in Italy specialising in gourmet dining with award-winning restauranteurs, fine wines, opera and cultural events.

Gourmet Getaways -

http://www.gourmetget.com


Offers culinary tours throughout Italy with high class accommodation. Specializes in wine tours in Tuscany.

Thai Cooking Holidays -

http://www.thaicookingholidays.co.uk


Cooking school in Chiang Mai, Thailand with possible extensions to Cambodia or Laos. Course details and regional information.

To Grandmothers House We Go Cooking Tours -

http://tograndmothershousewego.com


Offers cooking and cultural tours to Oaxaca, Mexico and Sicily, Italy as well as workshops in New York.

L'Aufragère -

http://www.laufragere.com


Cordon Bleu cookery courses in an 18th century French manor house in Normandy, France. Accommodation highlights, class information, and contact number.

Lacachette Culinary Academy -

http://www.lacachette.net


Features an 8 day culinary adventure with European master Chef Karl Heinz Dickheiwer and specializing in French and European cuisine.
Culinary Institutes <!table border=0 width=100% cellpadding=0 cellspacing=0>
<!table cellpadding=1 cellspacing=0 width=100% border=0>

<!td align=center valign=top bgcolor=brown>

The Culinary Institute of America -

http://www.ciachef.edu


Education features Associate and Bachelor degrees and continuing education courses in Culinary Arts and Baking and Pastry.

California Culinary Academy -

http://www.baychef.com


Chef training available from culinary arts program. Chefs culinary education includes culinary training in all types of cuisine and manners of cooking and baking food. Part-time cooking classes and weekend getaways offered.

StarChefs Culinary School Finder -

http://www.starchefs.com/cooking_school_finder/html/


Directory of culinary schools and programs for aspiring and professional cooks and foodies.

Peterson's Culinary Schools -

http://www.culinaryschools.com/


Peterson's is a respected publisher of educational and career guides. Browse detailed descriptions of more than 40 culinary schools and programs, which provide a taste of Peterson's print directory.

The Greenbrier -

http://www.greenbrier.com


La Varenne signature series, featuring "Entertaining at Home".

La Cucina Tuscan Cooking Classes -

http://www.tuscancookingclasses.com


Hands-on cooking classes.

Stratford College -

http://www.stratford.edu


Private career college offering 15-month AAS degree in Culinary Arts and 12-month diploma program in Culinary Arts

World Pastry Forum -

http://www.worldpastryforum.com/


Five-day program featuring classes by noted international pastry chefs that broaden knowledge of the pastry industry and educate on techniques, trends, theory, and tricks of the trade.

American Institute of Baking Online -

http://www.aibonline.org/


Describes continuing and vocational education programs for professional bakers offered by the AIB.

Culinary Arts Program at UNLV -

http://www.unlv.edu/Tourism/culinary.html


The Harrah College of Hotel Administration at the University of Nevada, Las Vegas offers a 4-year Bachelor of Science degree in Culinary Arts Management.

The French Culinary Institute -

http://www.frenchculinary.com


Career culinary school based In New York City. Courses are offered in culinary, pastry, and baking arts.

Art Institutes: Culinary Arts -

http://www.artinstitutes.edu


Culinary Arts degree and certificate/diploma programs at these locations: Arlington, Atlanta, Chicago, Dallas, Denver, Ft. Lauderdale, Houston, Los Angeles, Santa Ana, Minneapolis, New York, Philadelphia, Phoenix, Seattle.

Keiser College -

http://www.keisercollege.edu


Two-year college offering associate degree in Culinary Arts

Cook Street School of Fine Cooking, Denver Colorado -

http://www.cookstreet.com


teaching the principles and techniques of classical European cuisine. Offering classes appropriate for home cooks or professionals.

Santa Fe School of Cooking -

http://www.santafeschoolofcooking.com/


Offers classes in southwest culinary cuisine and gourmet food product from New Mexico for chefs and individuals.

Career Cooking Schools -

http://cookingcareer.shawguides.com


Detailed descriptions of hundreds of culinary institutes and career cooking schools worldwide. Searchable by state, country, keyword. Includes calendar of upcoming programs.

Southern California School of Culinary Arts -

http://www.scsca.com


16 month Professional Culinary Arts program. Teaching both traditional and modern cookery. Instruction begins with classical French techniques and terminology and progresses to innovative, contemporary cuisine.

Culinary Ed -

http://www.culinaryed.com


Directory of U.S. culinary schools.

California School of Culinary Arts -

http://www.calchef.com


Information on career training in the culinary arts, teaching both traditional and contemporary cooking in South Pasadena, California.

Colleges, Baltimore, Culinary, Hospitality, Ireland -

http://www.bic.edu/


Baltimore International College is a school teaching the culinary arts, hospitality management, business management in Baltimore and Ireland. Our Talented Faculty and staff, train chefs to prepare the finest cuisines!

The Cooking and Culinary School Directory -

http://www.cookingschools.com


Search more than 1,100 cooking and culinary schools by name, location or program specialty.

Florida Culinary Institute -

http://www.floridaculinary.com/


Accredited school offers degrees in Culinary Arts, International Baking and Pastry, and Food and Beverage Management.

Bon Vivant School of Cooking -

http://www.bon-vivant.com


Cooking classes and culinary training in Seattle. Evening cooking classes for the home cook.

Atlantic Culinary Academy -

http://www.atlanticculinary.com


Two-year college offering a 12-month program leading to an associate degree in Culinary Arts and Le Cordon Bleu diploma

Tante Marie School of Cookery -

http://www.tantemarie.co.uk/


Cordon Bleu cookery school offering cooking training courses to students from all over the world. Courses, facilities, profile and testimonials included.

Institute of Culinary Education -

http://www.iceculinary.com


Founded in 1974, offering accredited diploma programs in Culinary Arts, Pastry & Baking and Culinary Management, as well as hands-on cooking courses, wine tastings and walking tours for the general public.

Escuela Universitaria de Hosteleria y Turismo de Sant Pol / Barcelona -

http://www.euht-santpol.org


University hotel school located in Barcelona. Offering undergraduate and graduate programs in Hotel management, food & beverage management and Culinary Arts. Since 1966.

New England Culinary Institute -

http://www.neculinary.com


Training future chefs and foodservice managers. A NECI education features small classes, paid internships and hands-on work experience in foodservice operations.

Leiths School of Food and Wine -

http://www.leiths.com


Training school for both professional and amateur cooks. Includes profile, courses and FAQ. Also features cookery books, franchise opportunities, catering insurance, and Leiths List agency for cooks. Based in London, UK.

Cambridge School of Culinary Arts -

http://www.cambridgeculinary.com


Roberta Dowling's culinary arts school in Cambridge, Massachusetts, offers professional chef programs, continuing education classes, and travel programs in the culinary arts.

Western Culinary Institute -

http://www.westernculinary.com


Providing quality post-secondary education, located in Portland, Oregon. Specializing in a diversified hands-on curriculum in culinary arts.

School of Natural Cookery, Boulder Colorado -

http://www.naturalcookery.com


Offers a unique curriculum emphasizing vegetarian food preparation without recipes. You'll know what to cook and how to cook it intuitively.

Academy of Cake Art -

http://www.cakesbydesign.cc/cakes_by_design.html


Academy of Cake Art in New York City, founder and teacher, Scott Clark Woolley of "Cakes by Design".

Le Cordon Bleu Australia -

http://www.lecordonbleu.com.au/


Offers master, graduate, certificate and diploma programmes in hospitality management, gastronomy, cuisine and patisserie. Site includes contact details and programme descriptions. Located in Adelaide and Sydney, Australia.Contact australia@cordonbleu.edu.

Culinary Institute of New Orleans -

http://www.ci-no.com


Established in 1984 with the goal of providing the finest chefs in the culinary industry.

JNA Institue of Culinary Arts -

http://www.culinaryarts.com


A private 2 year culinary school located in Philadelphia

Barnes Street Culinary Studio -

http://www.barnesculinary.co.za


Culinary studio situated in Johannesburg, South Africa. Site describes curriculum and schedules, as well as some background information on the school.

Le Cordon Bleu -

http://www.cordonbleu.net/


Classic French cooking. Culinary Arts school offering traditional French cuisine, pastry and gourmet products.

Cooking Schools Online -

http://www.cooking-schools.net


Directory of U.S. cooking schools and culinary arts programs; includes foodservice industry news and resources.

Dubrulle International Culinary and Hotel Institute of Canada -

http://www.dubrulle.com


17-week Professional Culinary day program, with specialty courses available for the serious amateur.

European American Institute of International Education -

http://www.euramcenter.com


Set in the center's historic villa, the school will educate culinary experts, tourists, restaurateurs, alumni groups. Taught by internationally respected chef Jill Prescott.

The Gourmet Spoon -

http://www.thegourmetspoon.com


Chef Dan Witherspoon offers cooking classes and workshops, catering services, dinner parties and events, corporate team building, food service consultation, menu and recipe development in Denver, Colorado.

Pennsylvania Culinary -

http://www.paculinary.com


16 month associate degree programs. Training by the finest chefs and hospitality professionals.

San Diego Culinary Institute -

http://www.sdci-inc.com/


Certificate Programs in Basic Professional Culinary Skills and Baking and Pastry Arts. Hands-On Home Chef Classes taught in the same professional kitchens.

Galveston College -

http://www.gc.edu


Professional Culinary and Hospitality Management Training. Hands-on experience in lab training and catering.

Ice Cream University Seminars -

http://www.icecreamuniversity.org/


Ice Cream University, the educational arm of Malcolm Stogo Associates, an international ice cream consulting company based in Scarsdale, New York.

Padstow Seafood School -

http://www.rickstein.com


Seafood cookery courses.

Cooking & Culinary Arts Schools -

http://www.cooking-culinary-arts-schools.com


Le Cordon Bleu culinary arts schools in the U.S.

Pacific Institute of Culinary Arts -

http://www.picularts.bc.ca


European Chef Instructors. 12 students to one Chef. Baking, Cuisine, and Pastry.

American Bartending School -

http://www.barschool.com


Bartending training and job placement in New York,San Francisco,New Jersey, Palm Desert, Chicago, and Southern California

Cooking with Rosie -

http://www.rosiedavies.co.uk


Rosie Davies runs residential cookery courses for professional cooks, with a maximum of four to a class, from her home in Somerset, UK.

Capital Culinary Institute of Keiser College -

http://www.capitalculinaryinstitute.com


Get an Associate degree in Culinary Arts. Focus in baking/pastry, and French cuisine.

L'Academie de Cuisine -

http://www.lacademie.com/


L'Academie de Cuisine offers cooking classes for adults and children and professional programs for gourmet chefs. Courses include Professional Culinary Development, Fundamental Culinary and Pastry and International Culinary Techniques.

Cookin' Cajun Cooking School -

http://www.cookincajun.com


New Orleans is home for the Cookin' Cajun Cooking School, where you can learn to cook some of Louisiana's famous dishes.

International Institute of Culinary Arts -

http://www.iicaculinary.com


An intense curriculum that includes apprenticeships, externships and training from expert chefs.

Home Cooking -

http://www.geocities.com/jenniferhherman/homecooking.html


Private cooking classes in your New York City kitchen. Learn to cook the foods you love to eat in the comfort of home. For individuals and groups; gift certificates available.

CULINARD, The Culinary Institute of Virginia College -

http://www.culinard.com


Offers 21-month AOS degree in Culinary Arts.

Mon Cheri Cooking School and Caterers -

http://www.monchericookingschool.com


Cooking classes & tours

Center for Culinary Arts -

http://www.centerforculinaryarts.com


School offers professional culinary, baking, and pastry training programs for career-minded individuals. Located in Cromwell and Shelton, Connecticut.

Scottsdale Culinary Institute -

http://www.chefs.com/


Complete a degree in 15 months in culinary arts and sciences and restaurant management based on a mastery of basic principles and hands-on experience. Location: Scottsdale, Arizona.

Sook Enterprises -

http://www.sookfood.com


Sharing culinary skills in a fun and informative manner, encouraging others to venture beyond their culinary norms.

City College of San Francisco Hotel and Restaurant Department -

http://www.ccsf.edu/Departments/Hotel_and_Restaurant/


Culinary cooking, food service and hotel restaurant management school in San Francisco, CA. Two-year program trains students to be chefs, food service management and hotel management.

York Technical Institute Culinary Arts -

http://chefs.yti.edu/


Culinary arts college in Mt. Joy, Pennsylvania. Cooking school providing pastry chef courses, baking school, chef training, catering training, and restaurant management courses.

National Schools - Bartending and Culinary Schools -

http://www.nationalschools.com


Bartending, bakery and culinary schools

Chez Cherie Cooking Classes -

http://www.chezcherie.bigstep.com/


Cooking classes in La Canada, California, USA. Schedule and contact information.
<!a href="http://www.jdoqocy.com/click-1562217-10273663?url=http%3A%2F%2Fwww.gopromos.com%2Fstore%2Fproduct.asp%3Fid%3D06107%26mid%3DCJPRDCT3A" target="_blank" > <!img src="http://www.gopromos.com/images/06107t.jpg" border="0" alt="Chocolate Gift Set - 56 Piece"> <!img src="http://www.afcyhf.com/image-1562217-10273663" height="1" width="1" border="0"> <!a href="http://www.lyonpeople.com/news/p6dossiersagalyonnaises.html" target="_blank">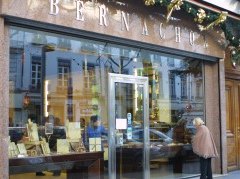 Alain and Marie Lenotre Culinary Institute -

http://www.lenotre-alain-marie.com


Learn cooking from French chefs. Provides school training and continuing education through intensive, hands on classes.

Niagara-on-the-Lake Culinary School -

http://notlculinaryschool.com


At the Niagara-on-the-Lake Culinary School, students pursue their culinary education in one of Canada's best known fine dining destinations, located in the heart of Niagara wine country.

The Restaurant School, Philadelphia, PA -

http://www.therestaurantschool.com


Culinary programs: Culinary Arts, Pastry Arts, includes a tour of a France.

Gourmet Cooking - Cookery Courses Ireland -

http://www.irish-cookery-school.com/cookery.html


Enjoy Gourmet Cooking at the Belle Isle School of Cookery, providing a range of Cookery Courses in the beautiful Lakelands of Ireland

Tante Marie's Cooking School -

http://www.tantemarie.com


Established in 1979 on San Francisco's Telegraph Hill. Culinary courses cover basic French Techniques, breads and pastries, desserts, ethnic cuisines, food purchasing and handling, menu planning and taste refinement.

Sullivan College -

http://www.sullivan.edu/louisville/national/index.html


ACFEI accredited 18-month degree. Programs in Baking and Pastry Arts and Culinary Arts.

BaanThai Cookery School -

http://www.cookinthai.com


Thai cooking course in Thai home.

Cascade Culinary Institute -

http://culinary.cocc.edu/


Partner of Central Oregon Community College. Offers four-term certificate of completion in Culinary Arts.

The Italian Institute for Advanced Culinary and Pastry Arts -

http://www.italianculinary.it


Full immersion hands-on courses in Italy for Professional Chefs, Students and Patissier. Courses include 4 star accommodations, fine dining, market visits and excursions.

The Compleat Cook - Bellevue, Washington -

http://www.compleatcook.com


Classes cover such topics as appetizers, table decorating, holiday meal planning, knife skills, roasting, Asian noodles, vegetarian gourmet.

High Sierra Chefs Association - ACFHSCA.org -

http://www.acfhsca.org


High Sierra Chefs Association - Reno, Sparks, Carson City, Lake Tahoe and all surrounding areas of Northern Nevada / North Eastern California - ACFHSCA.org

Institute for Educational Therapy -

http://www.iet.org/


Nutrition consultant and culinary whole foods chef programs. Classroom and distance learning courses available.

America Study Guide - Cooking Schools in the USA -

http://www.americastudyguide.com/dir/cooking/index.html


Directory of cooking schools, culinary institutes and programs that welcome international students.

Terence Janericco Cooking Classes, in Boston -

http://www.terencejanericcocookingclasses.com/


Terence Janericco Cooking Classes, in Boston, Massachusetts, provides you with the tools to create, appetizing, fresh, healthy meals, easily and efficiently.

Links to the best Culinary Classes in Germany and the world -

http://www.kochmesser.de/kurse.html


Links to culinary classes, especially for amateur chefs, in Germany
Lindt Swiss Hazelnut Chocolate Bar, 4.00 oz

Culinary Concepts -

http://www.culinaryconcepts.net


Culinary instruction, offering workshops by some of the country's foremost chefs and teachers.

Laurel Run Cooking School -

http://www.laurelruncookingschool.com


Cooking classes for every skill level.

Can Do Chefs -

http://www.candochefs.com/


Hands-on cooking classes featuring cuisines from around the world. Classes during the day, evening and some Saturdays.

Thai Food Cooking School -

http://thai-food-cooking-school.infothai.com


Offering a different view into Thai food culture. Smell and taste the fresh ingredients at fresh markets, and learn to recognize the different spices used in Thai cooking.

Chef Brad's Kitchen Store -

http://www.chefbrad.com


Chef Brad's Kitchen Store features cooking classes and top of the line cookware and accessories.

Le Cordon Bleu Culinary Program at Brown Institute -

http://www.culinary-bi.com


The Culinary Arts program at Brown Institute offers hands-on teaching of cooking and baking skills, as well as theoretical knowledge.

Chez Bay Gourmet Cooking School -

http://chezbaygourmet.com


A North Carolina cooking school based in Durham with a satellite location in Charlotte offering hands-on classes and cooking demonstrations. Custom programs in corporate teambuilding, holiday and special occasion parties and culinary travel programs.

Winner Institute Culinary Arts Program -

http://www.winner-institute.com


Culinary Arts instruction with comprehensive chef training,a paid nationwide externship, and lifetime placement assistance.

Culinary Institute of Smoke-Cooking -

http://www.bbqcookingschool.com/


Designed to hone the skills of the backyard barbecuer, the professional chef or the competitive cook or team.

Le Cordon Bleu School at International Culinary Academy -

http://www.lcb-ica.com


Culinary Arts School in partnership with Pittsburgh's International Culinary Academy for chef, pastry and cooking education.

Blue Ribbon Cooking School -

http://www.blueribboncooking.com


A Seattle-based cooking school and team-building company.

Famous Provence -

http://leluberon.net/famous-provence


One-week cooking vacations that include daily hands-on classes preparing 3-course menus, guided tours, visits to markets and food producers.

Arizona Culinary Institute -

http://www.arizonaculinary.com


Scottsdale cooking school offers classes with small enrollments in Culinary Arts

Culinary Sol -

http://www.culinarysol.com


Recreational cooking school offering hands-on and demonstration classes in an array of cooking techniques for both the novice and experienced cook.

The Bisbee Cooking School -

http://geocities.com/bisbeecookingschool


Offers small classes for individuals (not professionals) in creative Southwest, Cajun, Intalian, French and American regional cooking and wine appreciation. Information about their program and enrollment information.

Maui Community College -

http://mauicc.hawaii.edu/unit/fser/welcome2.html


Culinary Arts Program. Accredited by the American Culinary Federation. Located in Maui.

Toscana in Bocca -

http://www.toscanainbocca.it


Vacation cooking school offering 5-day classes.

The Asian and Oriental School of Catering -

http://www.spice-train.com


Provides practical advice, courses and development programmes to individuals involved in the Asian and Oriental restaurant industry at all levels.

Pastry Chefs of Alberta and Ontario -

http://www.pastrychefguild.net


Pastry Chef information and education for Chefs, bakers and other culinary businesses

The Art Institute of New York City -

http://ainyc.artinstitutes.edu


Formerly The New York Restaurant School. Certificate and Associate's degree programs in the Culinary Arts.

Food of Course Cookery School -

http://www.foodofcourse.co.uk


The Food of Course Cookery School provides hands-on experience, courses for a day, a week or a month. Tailor made courses available.

Sugarcraft Classes -

http://www.haveyourcakeandeatit.org


Sugarcraft classes, beginner to advanced one-day workshops or 6-week courses.

Gourlette Gourmet Cooking -

http://www.g-gourmet.com


Gourmet cooking classes, catering a-la french gourmet, recipes.

Confident Cooking -

http://www.confidentcooking.com


Features Caroline Yates running cookery demonstrations, practical day workshops & weekend residential courses.

Woodend Cookery -

http://www.woodendcookery.50megs.com


Cookery demonstrations in the west of the Lake District, Cumbria.